South India is not Madras and is culturally diverse, geographically magnificent and linguistically multi-lingual. Madras is nothing but an emotion. We do not speak only Hindi.
Paratha for breakfast ! We offer more than a stuffed paratha. You can eat idli, dosa, Idiyappam, Gouthambu Dosa, Ven Pongal, Puttu, Medu vada, appam and potato stew, mysore bonda and coconut chutney, kesari bath, upma and sambar, semiya upma, pesarattu, masala dosa, onion uttapam, billa kudumulu, of course not forgetting if you wish to have also south Indian style chicken, fish, bacon and beef also.
South Indian weddings you won't always get golden plates or silver spoons, but be ready to eat over a leaf and with your hand, you may wish to lick your fingers after the delicious sambar and the meals.
If you have never traveled to south India before and you are still thinking whether or not you should, you have already wasted 90% of your life and reading this article and not booking your ticket, you are wasting the rest of your life. Wake up dude !
If you thought south India was unsafe, you really need to re-think about your definition of safety. We protect all who come to our shores and our lands. Your safety is our responsibility. But can you make south Indians feel that way in Delhi, Uttar Pradesh, Bihar and other locations ? Want to take up the challenge ?
We visit Delhi, you see us as Madrasi. You visit south India, we see you as a brother or sister, but above all, Indian. Welcome to the new age, your geography & brain needs a wash.
If you wish to give MC , BC abuses, you will not always be understood. So relax and learn some local words.
Don't keep asking for roti, Rice is our forte. Get into the habit of eating with your fingers and not chamach ( spoon).
We don't believe in astrology like the way you do and we are more open minded and we show it. No two ways involved. Also we talk Education, environment, development in action, and you know how it is out there.
The GDP of India runs and survives because of the South, where the southern states pump in more money for your welfare. Care to work more closely and help us help you ? Join hands then.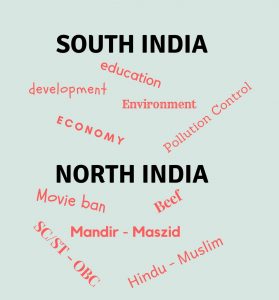 PS: South Indians must learn the Jazz, the style quotient offered by North Indians and must adopt the trends. Fast track your new age trends and flaunt them.
Agree with me ? share the article !
Disclaimer: This is written on a lighter note and it must solely tickle your funny bones. Do not think like a scientist, and if you do, you are alone responsible for your thoughts.