I grew up to wonder if Ranbaxy was the safest company in India who manufactured medicines for public utility. In-fact I also distinctly recall having recommended to good many number of friends during my under-graduate medicine days to go for Ranbaxy or Cipla among drug companies while buying medicine. This was based on my limited knowledge after my days in pharmacology and after discovering the complex scientific names of each of them.
It is almost a decade now since those formative years of ignorance to unravel the dark side of Indian pharmaceutical industry. I never understood Indian pharmaceuticals back then, and I am afraid, I don't fully yet understand this compromised industry.
Katherine Eban's Bottle of Lies exposes the under-belly of compromise which was undertaken by Ranbaxy, Wockhardt, Glenmark Pharmaceuticals, RPG Life sciences, Mylan and Dr. Reddy's.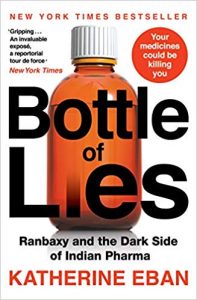 Over, 20,000 FDA documents and interviews with more than 240 people exposed the fraud and manipulation of this industry. With the involvement of the big names, Indian pharmaceutical companies where brought to shambles.
This all started because of one man, Mr. Dinesh thakur who worked with the FDA to create this sensational expose of how Indian pharmaceuticals didn't really care for the people and cared only about profits.
Dinesh of course, did not get the support he was looking for and had to bank upon persistence and the larger goodwill of humanity before some people lend him ears. This is the story of endurance and human courage, of risk and rewards, of a path unlikely taken and of a industry that refuses to heal.
PS:
There is very limited pharmaceutical support in public healthcare. Logic has it, because there is no direct return on investment and a healthy public community will not bring turn-over to the pharmaceutical company. When I approached many companies to role out public initiatives, they directly told me it was of no good for them as their profits would decline. Morals be damned or humanity be doomed? Only time can tell.