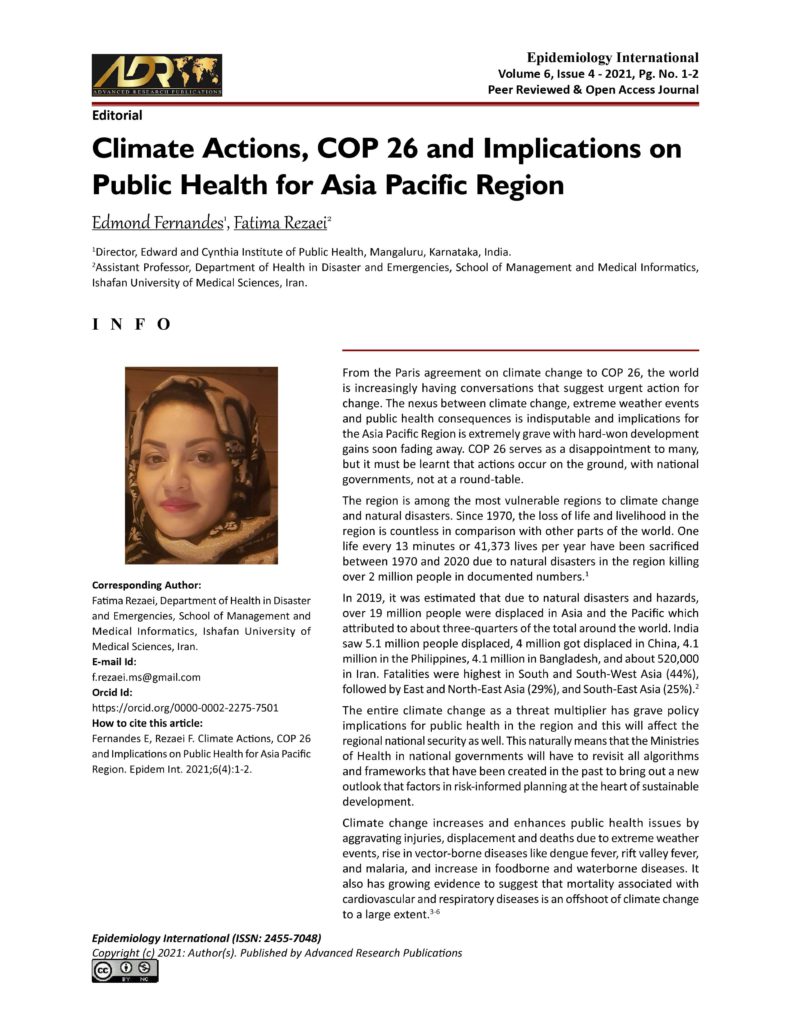 Climate Actions, COP 26 and Implications on Public Health for Asia Pacific Region
From the Paris agreement on climate change to COP 26, the world is increasingly having conversations that suggest urgent action for change. The nexus between climate change, extreme weather events and public health consequences is indisputable and implications for the Asia Pacific Region is extremely grave with hard-won development gains soon fading away. COP 26 serves as a disappointment to many, but it must be learnt that actions occur on the ground, with national governments, not at a round-table.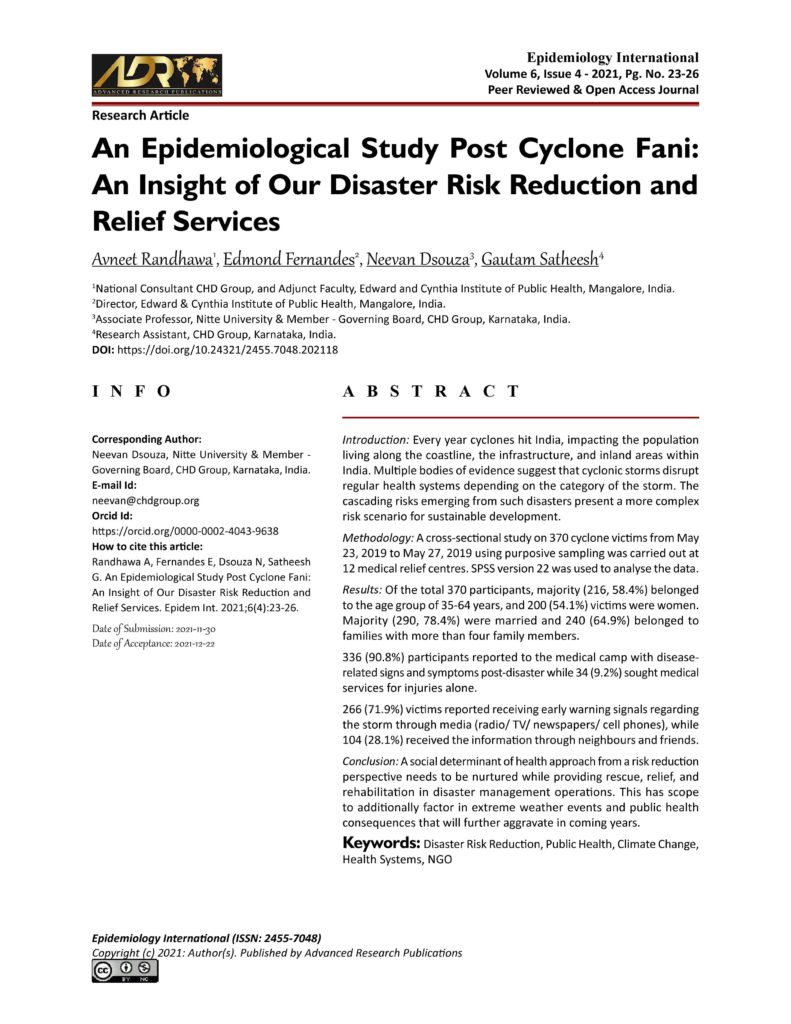 An Epidemiological Study Post Cyclone Fani: An Insight of Our Disaster Risk Reduction and Relief Services
Introduction: Every year cyclones hit India, impacting the population living along the coastline, the infrastructure, and inland areas within India. Multiple bodies of evidence suggest that cyclonic storms disrupt regular health systems depending on the category of the storm. The cascading risks emerging from such disasters present a more complex risk scenario for sustainable development.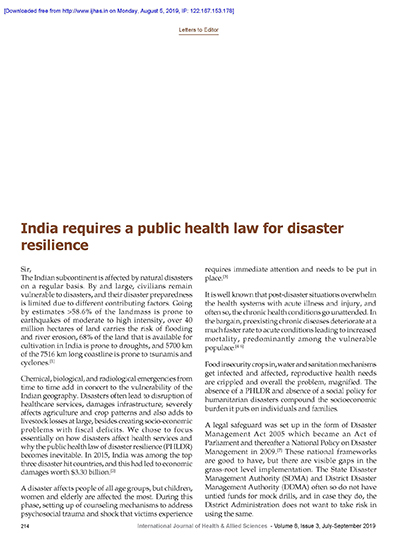 India requires a public health law for disaster resilience
The Indian subcontinent is affected by natural disasters on a regular basis. By and large, civilians remain vulnerable to disasters, and their disaster preparedness is limited due to different contributing factors. Going by estimates >58.6% of the landmass is prone to earthquakes of moderate to high intensity, over 40 million hectares of land carries the risk of flooding and river erosion, 68% of the land that is available for cultivation in India is prone to droughts, and 5700 km of the 7516 km long coastline is prone to tsunamis and cyclones.[1]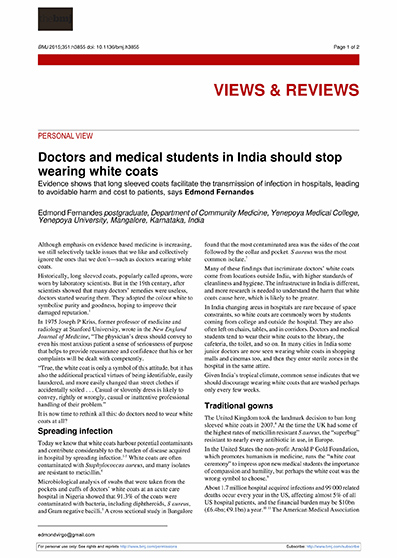 Doctors and medical students in India should stop wearing white coats
Although emphasis on evidence based medicine is increasing, we still selectively tackle issues that we like and collectively ignore the ones that we don't—such as doctors wearing white coats.
Historically, long sleeved coats, popularly called aprons, were worn by laboratory scientists. But in the 19th century, after scientists showed that many doctors' remedies were useless, doctors started wearing them. They adopted the colour white to symbolise purity and goodness, hoping to improve their damaged reputation.1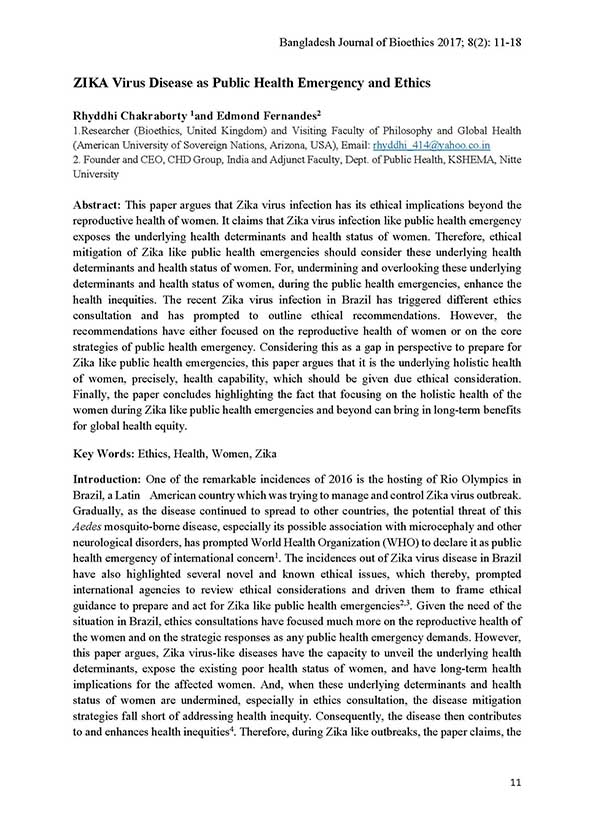 ZIKA Virus Disease as Public Health Emergency and Ethics
This paper argues that Zika virus infection has its ethical implications beyond the reproductive health of women. It claims that Zika virus infection like public health emergency exposes the underlying health determinants and health status of women. Therefore, ethical mitigation of Zika like public health emergencies should consider these underlying health determinants and health status of women. For, undermining and overlooking these underlying determinants and health status of women, during the public health emergencies, enhance the health inequities.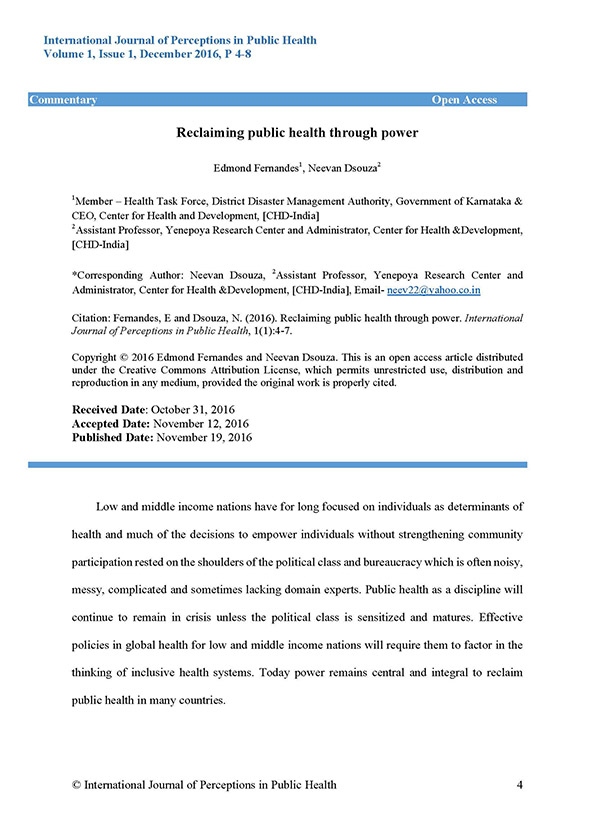 Reclaiming public health through power
Low and middle income nations have for long focused on individuals as determinants of health and much of the decisions to empower individuals without strengthening community participation rested on the shoulders of the political class and bureaucracy which is often noisy, messy, complicated and sometimes lacking domain experts. Public health as a discipline will continue to remain in crisis unless the political class is sensitized and matures.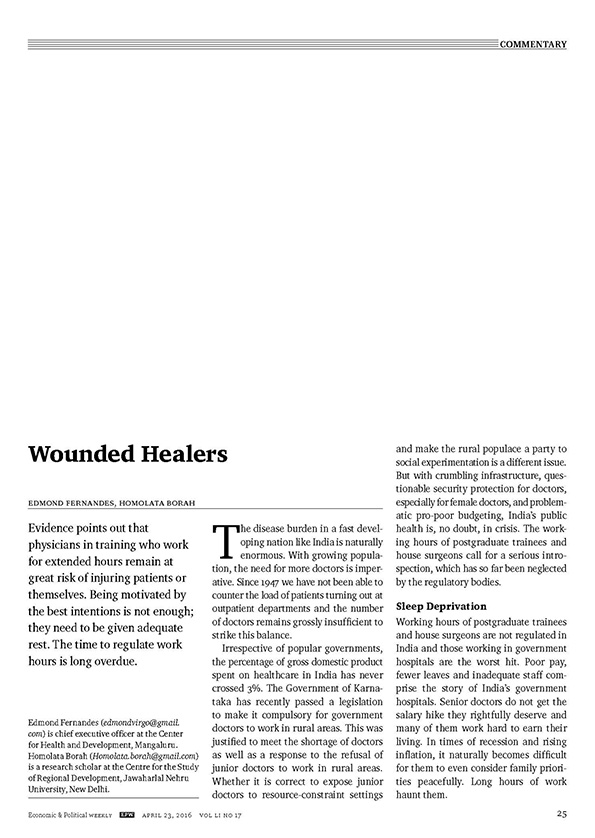 The disease burden in a fast developing nation like India is naturally enormous. With growing population, the need for more doctors is imperative. Since 1947 we have not been able to counter the load of patients turning out at outpatient departments and the number of doctors remains grossly insuffi cient to strike this balance.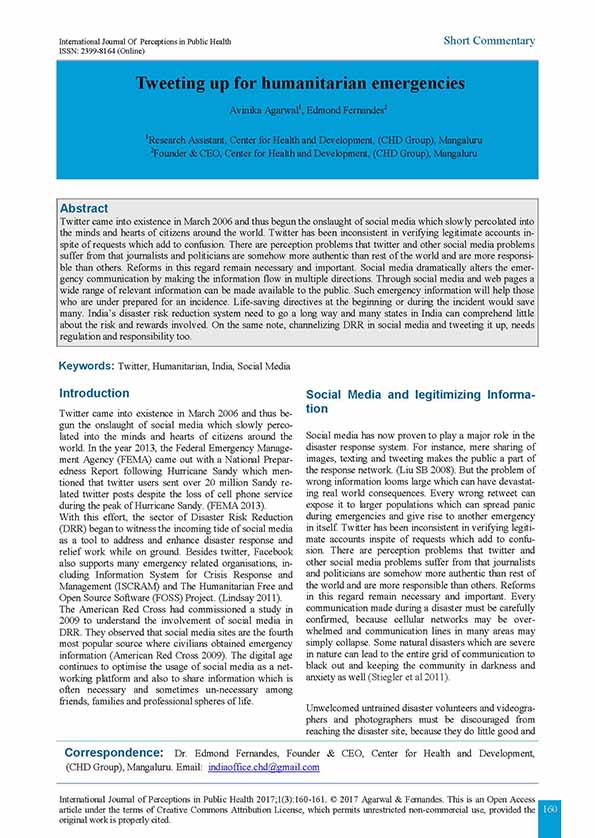 Tweeting up for humanitarian emergencies
Twitter came into existence in March 2006 and thus be-gun the onslaught of social media which slowly perco-lated into the minds and hearts of citizens around the world. In the year 2013, the Federal Emergency Manage-ment Agency (FEMA) came out with a National Prepar-edness Report following Hurricane Sandy which men-tioned that twitter users sent over 20 million Sandy re-lated twitter posts despite the loss of cell phone service during the peak of Hurricane Sandy. (FEMA 2013).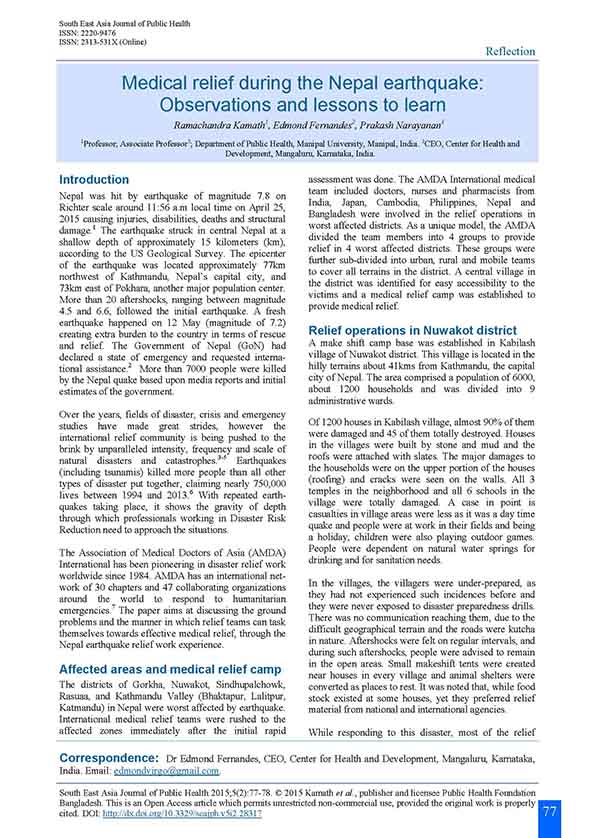 Medical relief during the Nepal earthquake: Observations and lessons to learn
Nepal was hit by earthquake of magnitude 7.8 on Richter scale around 11:56 a.m local time on April 25, 2015 causing injuries, disabilities, deaths and structural damage.1 The earthquake struck in central Nepal at a shallow depth of approximately 15 kilometers (km), according to the US Geological Survey. The epicenter of the earthquake was located approximately 77km northwest of Kathmandu, Nepal's capital city, and 73km east of Pokhara, another major population center. More than 20 aftershocks, ranging between magnitude 4.5 and 6.6, followed the initial earthquake. A fresh earthquake happened on 12 May (magnitude of 7.2) creating extra burden to the country in terms of rescue and relief. The Government of Nepal (GoN) had declared a state of emergency and requested interna-tional assistance.2 More than 7000 people were killed by the Nepal quake based upon media reports and initial estimates of the government.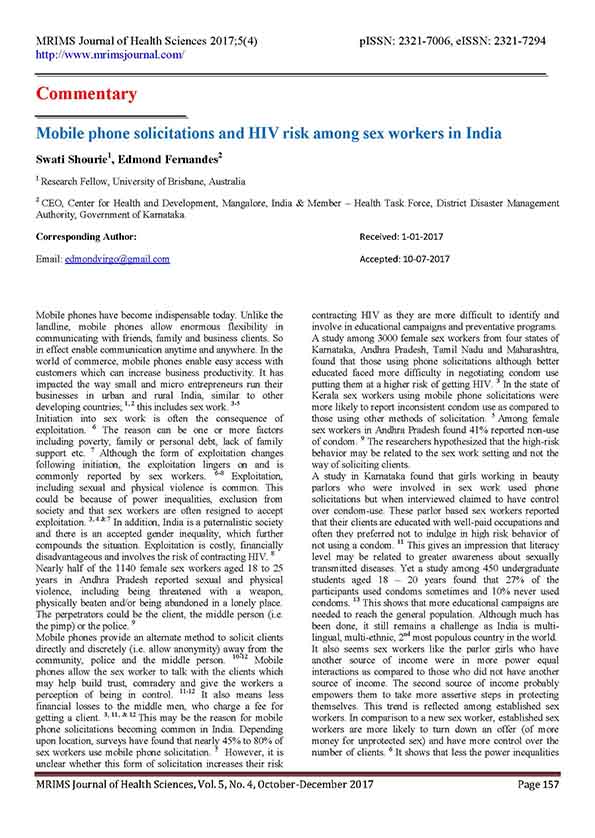 Mobile phone solicitations and HIV risk among sex workers in India
Mobile phones have become indispensable today. Unlike the landline, mobile phones allow enormous flexibility in communicating with friends, family and business clients. So in effect enable communication anytime and anywhere. In the world of commerce, mobile phones enable easy access with customers which can increase business productivity. It has impacted the way small and micro entrepreneurs run their businesses in urban and rural India, similar to other developing countries; 1, 2 this includes sex work.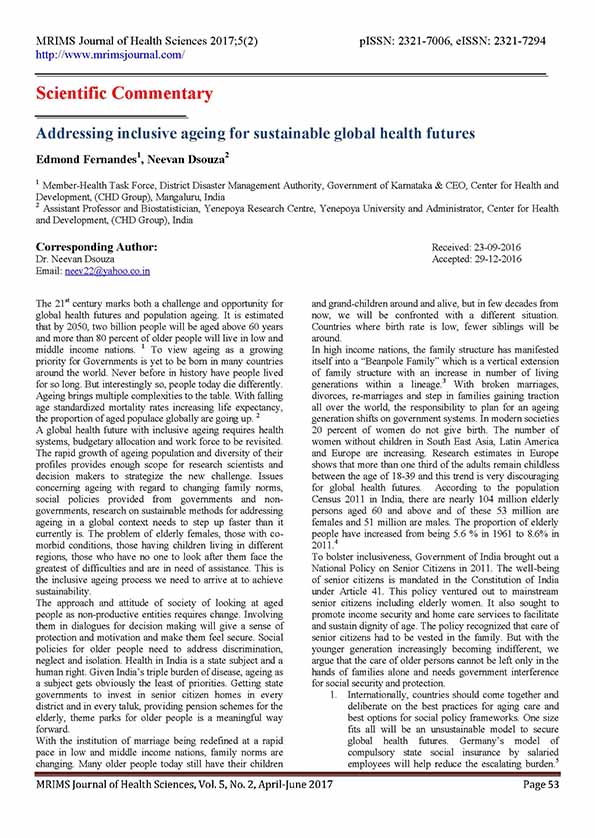 Addressing inclusive ageing for sustainable global health futures
The 21st century marks both a challenge and opportunity for global health futures and population ageing. It is estimated that by 2050, two billion people will be aged above 60 years and more than 80 percent of older people will live in low and middle income nations. 1 To view ageing as a growing priority for Governments is yet to be born in many countries around the world. Never before in history have people lived for so long. But interestingly so, people today die differently. Ageing brings multiple complexities to the table. With falling age standardized mortality rates increasing life expectancy, the proportion of aged populace globally are going up.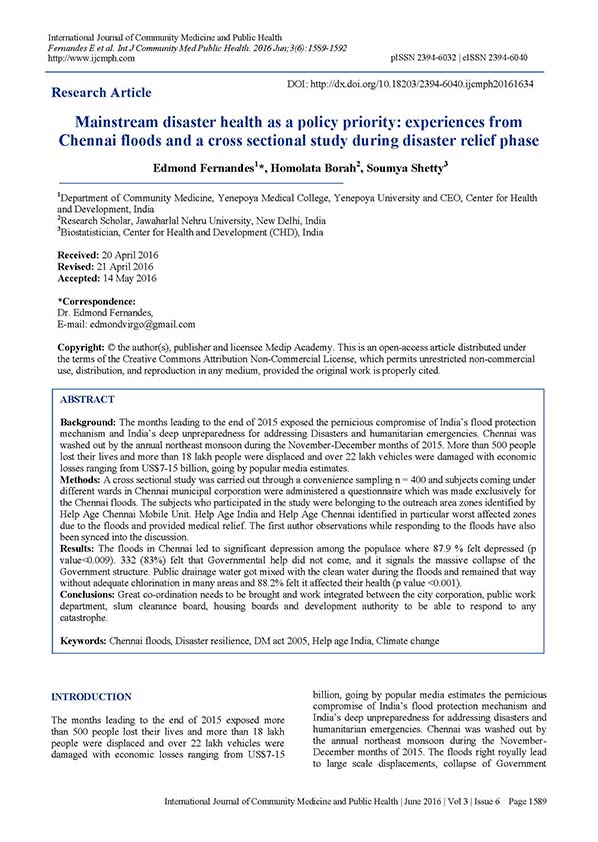 Mainstream disaster health as a policy priority: experiences from Chennai floods and a cross sectional study during disaster relief phase
Chennai was washed out by the annual northeast monsoon during the November-December months of 2015. More than 500 people lost their lives and more than 18 lakh people were displaced and over 22 lakh vehicles were damaged with economic losses ranging from US$7-15 billion, going by popular media estimates.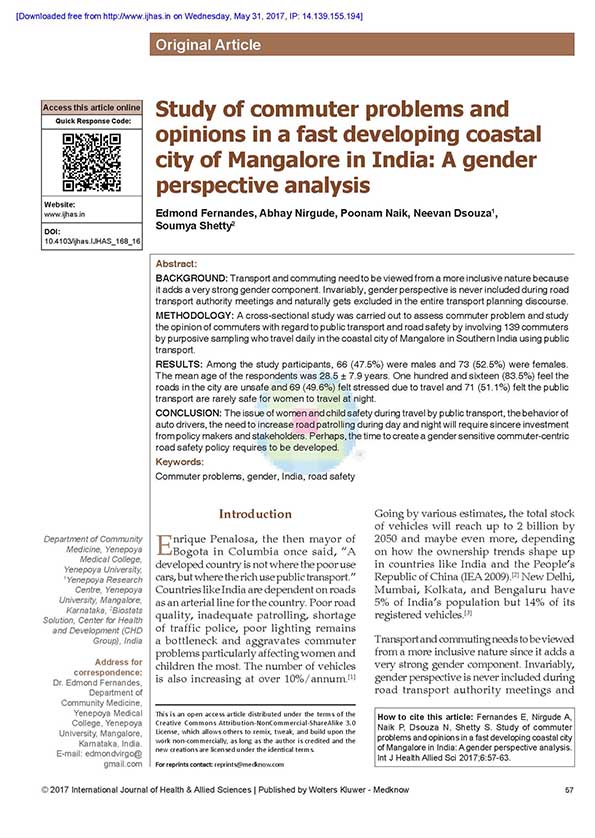 Study of commuter problems and opinions in a fast developing coastal city of Mangalore in India: A gender perspective analysis
Enrique Penalosa, the then mayor of Bogota in Columbia once said, "A developed country is not where the poor use cars, but where the rich use public transport." Countries like India are dependent on roads as an arterial line for the country. Poor road quality, inadequate patrolling, shortage of traffic police, poor lighting remains a bottleneck and aggravates commuter problems particularly affecting women and children the most. The number of vehicles is also increasing at over 10%/annum.[1]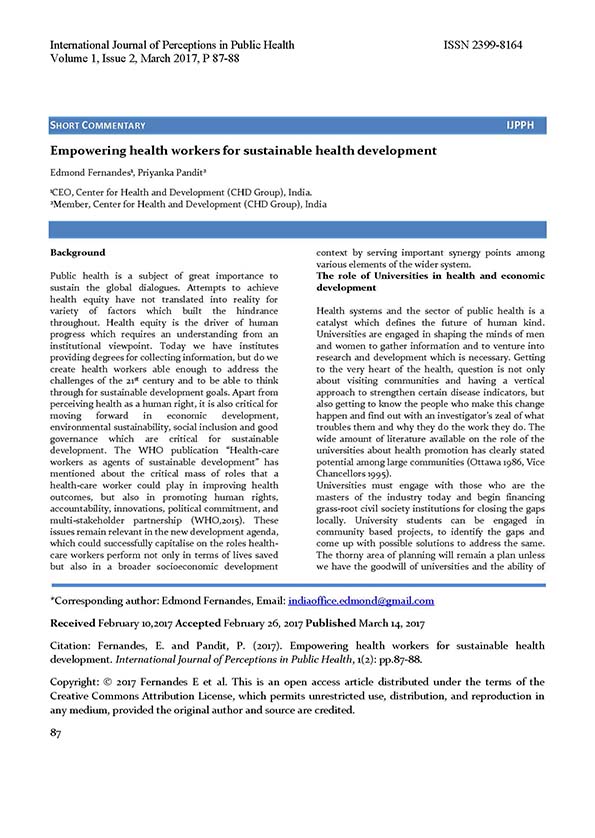 Empowering health workers for sustainable health development
Public health is a subject of great importance to sustain the global dialogues. Attempts to achieve health equity have not translated into reality for variety of factors which built the hindrance throughout. Health equity is the driver of human progress which requires an understanding from an institutional viewpoint. Today we have institutes providing degrees for collecting information, but do we create health workers able enough to address the challenges of the 21st century and to be able to think through for sustainable development goals. Apart from perceiving health as a human right, it is also critical for moving forward in economic development, environmental sustainability, social inclusion and good governance which are critical for sustainable development.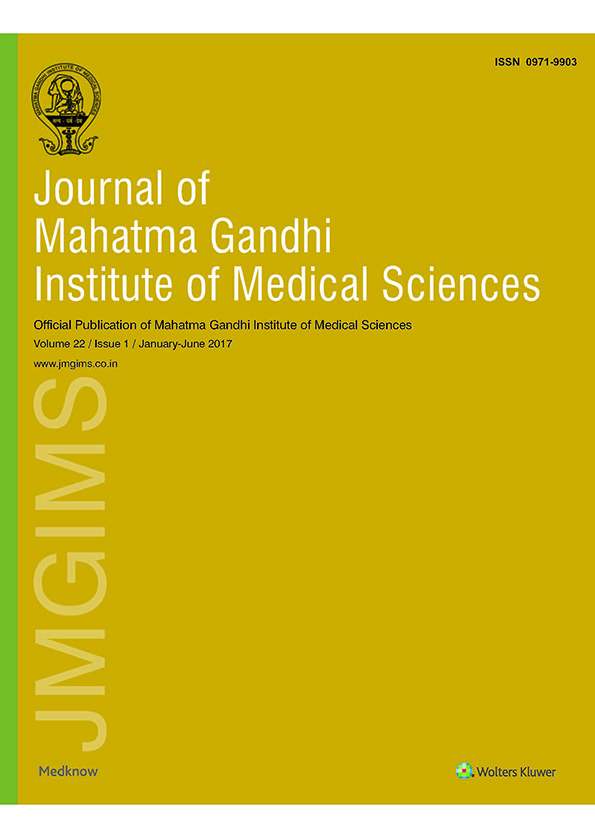 Engage Medical Postgraduates Beyond Medicine
Medical education in India today remains guided by steps taken in British India. We still stress on diagnosing mitral stenosis like rare diseases, when in the neighborhood, we have patients die from malaria, tuberculosis, and cancer which have become a common place of our daily story. Medical postgraduates today have become programmed to only think of completing their presentations, pleasing their staff, and getting their degrees. While this helps a lot at an individual level, what is medical education contributing to developing human society and science in toto?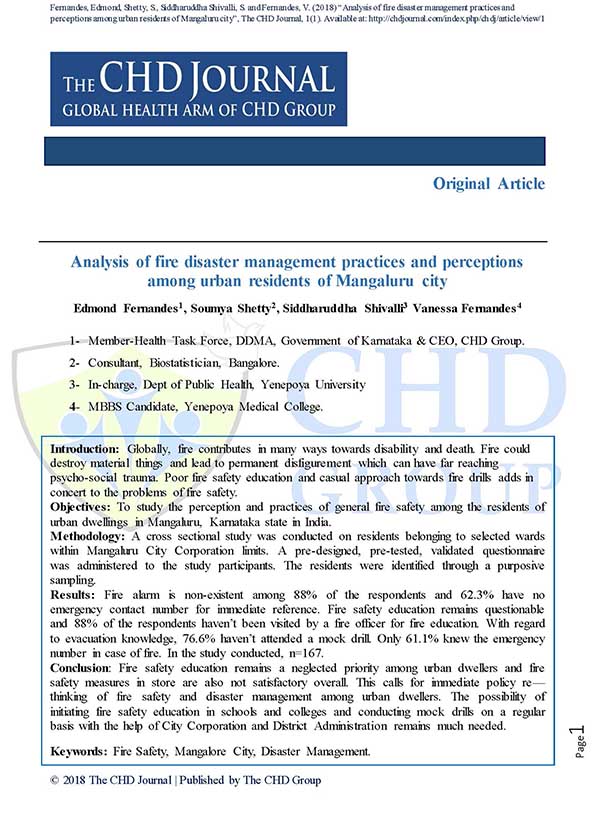 Analysis of fire disaster management practices and perceptions among urban residents of Mangaluru city
Globally, fire contributes in many ways towards disability and death. Fire could destroy material things and lead to permanent disfigurement which can have far reaching psycho-social trauma. Poor fire safety education and casual approach towards fire drills adds in concert to the problems of fire safety.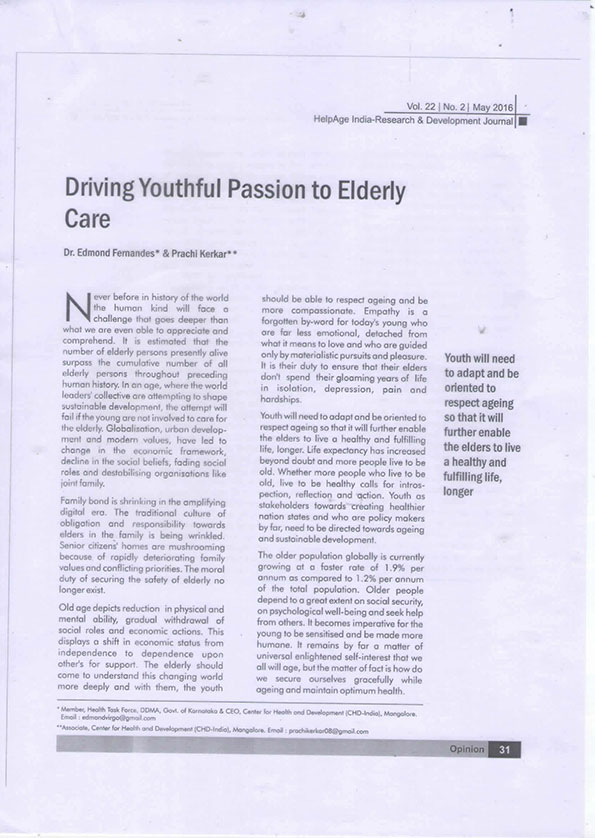 Driving Youthful Passion to Elderly Care
Never before in history of the world the human kind will face o challenge that goes deeper than what we are even able to appreciate and comprehend. It is estimated that the number of elderly persons presently alive surpass the cumulative number of all elderly persons throughout preceding human history. In an age, where the world leaders collective are attempfing lo shape sustainable development, the attempt will •fail if the young are not involved to care for the elderly. Globalisation, urban development and modern values, have led to change in the economic framework, decline in the social beliefs, fading social roles and destabilising organisations like joint family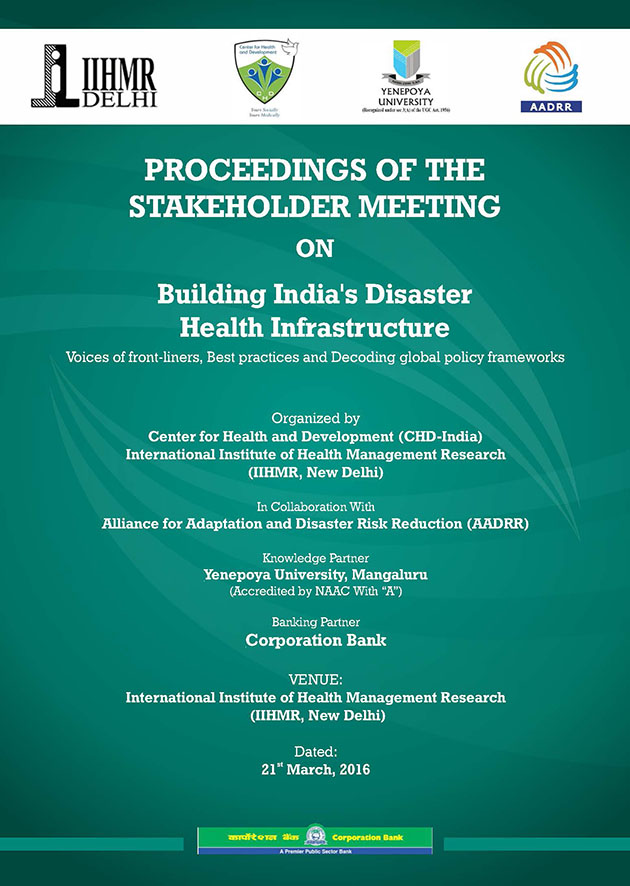 PROCEEDINGS OF THE STAKEHOLDER MEETING ON Building India's Disaster Health Infrastructure
Building India's Disaster Health Infrastructure set the tone towards a forward push for the deliberation on Disaster Health. Public health has been inadequately prioritized in all disaster mitigation and resilience efforts and this stakeholder meeting was to provide a directive, to stimulate a chain of thought, to set the ball rolling to discover and envision and create a more efficient and responsive public health outlook towards shaping India's Disaster Health Infrastructure. Medical education and its focus on Disaster Risk Reduction till date has been minimal and capacity building exercise for hospitals all over the country needs to be mainstreamed.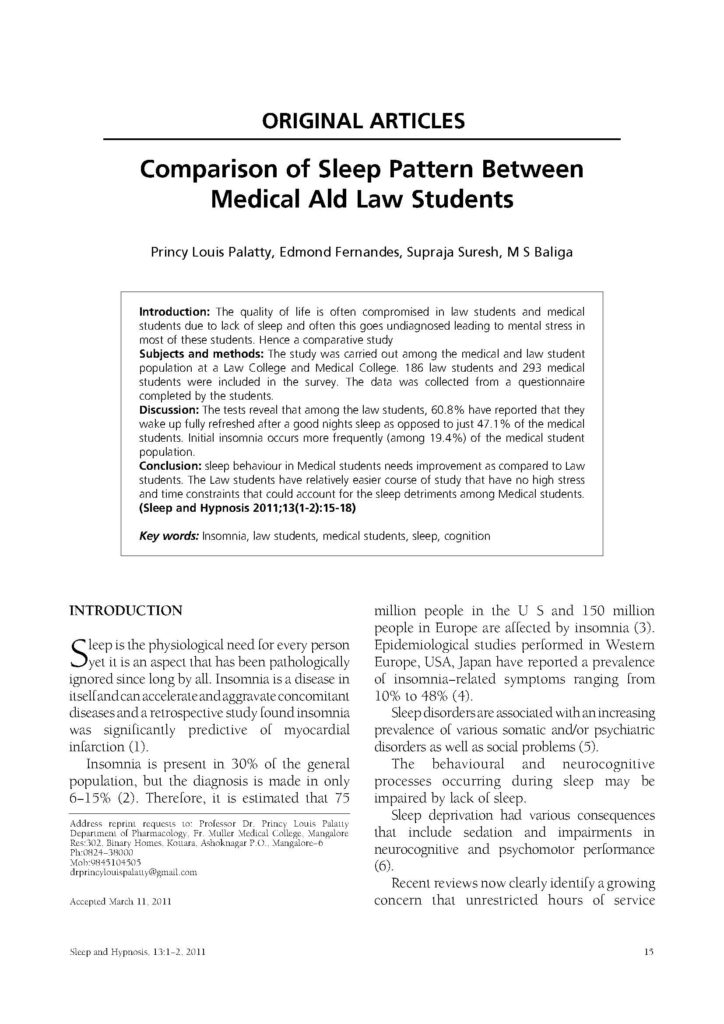 Comparison of Sleep Pattern Between Medical Ald Law Students
The quality of life is often compromised in law students and medical students due to lack of sleep and often this goes undiagnosed leading to mental stress inmost of these students. Hence a comparative study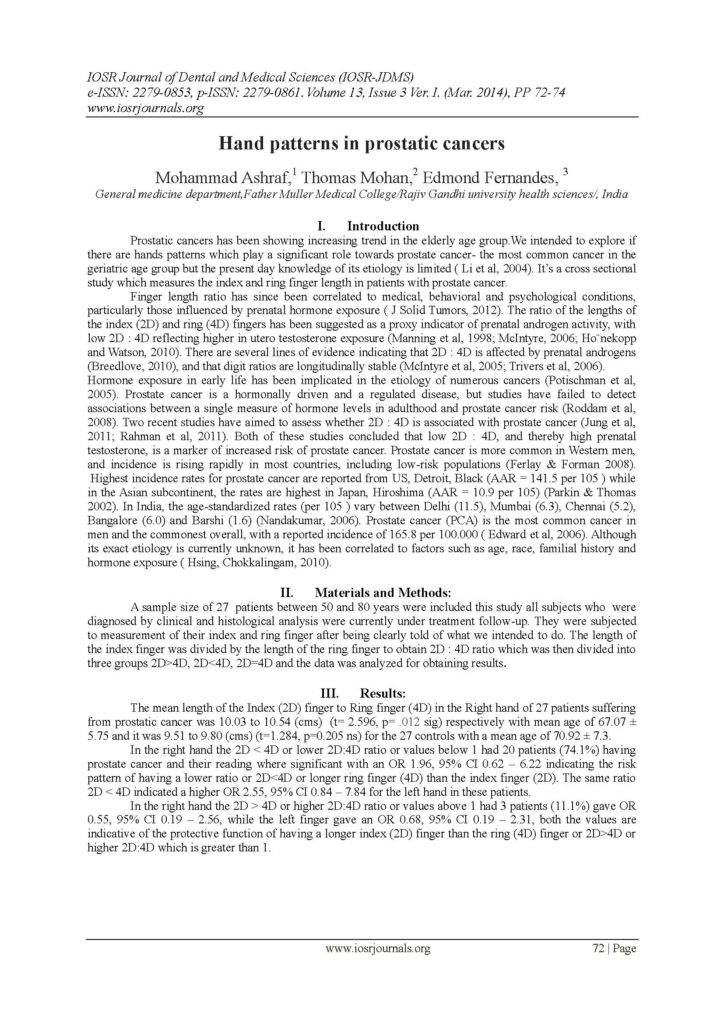 Hand patterns in prostatic cancers
Prostatic cancers has been showing increasing trend in the elderly age group.We intended to explore if there are hands patterns which play a significant role towards prostate cancer the most common cancer in the geriatric age group but the present day knowledge of its etiology is limited    (Li et al, 2004). It's a cross sectional study which measures the index and ring finger length in patients with prostate cancer.